Hi VP,
I have a problem again with ORM Components.
This time I was going to report you a possible bug when generating code for ORM components, and then I could not generate code at all!
Let me explain:
First, I was working with a model like image1
Then, when generating code, the mapping for the component was not generated if the component lives inside a

"joined-subclass"

. I mean, this code will not be automatically generated:



('Base' in this case is the name of the NET assembly)
But now, when I tried generating code from the model, it fails with the warning showed in image2 :evil:
BTW, I see that your error message now tells some important info: the item involved!! (in this case, column "att1" of item "comp1"). Thank you for doing so!!

So, maybe here are two bugs indeed. The original one, no mapping generated for components inside a "joined-subclass", and now code generation error when trying to do so.
Happy component fixing


bug7b.png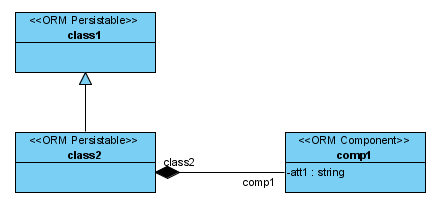 bug7a.png