Hi there,
i try to generate my OR Mapping from a new ERD <-> Class diagram.
When I try to set my packaging for the persistent manager under Class Diagramm -> ORM -> Generate Code -> Advanced Settings Persistent Manager Package the packaging isn't right. I always get the default "orm" in my generated code.
What I'm doing wrong?
I try to have something like org.mypackage.mystuff.model.persistentmanager …
Thank you,
Matthias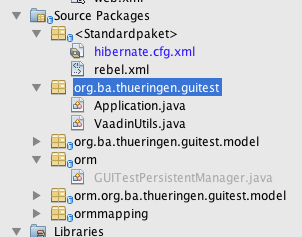 Bildschirmfoto 2011-12-02 um 08.44.33.png


Bildschirmfoto 2011-12-02 um 08.42.26.png