Hi VP,
I had a problem when testing your software that I want you to know. When designing a class hierarchy, I had some problems when changing the inheritance strategy between "table-per-subclass" and "table-per-class-hierarchy".
The DBVA version I have tested this with is: v4.1 (sp1_20071119k) (downloaded from a forum link).
I have prepared an image to show you the effect, I think it is clearer if pictured than only writing about it 8)
The problem appears when two different subclasses have a reference with multiplicity 1 or 1…* (so, nullable=false). If "table-per-subclass" selected, no problem. But what happens if "table-per-class-hierarchy" is set? :?
The generated code is OK (in fact, it is the same)
The generated ORM Mapping "seems" ok but… :?
When you try to save a subclass instance…
"PersistentException" OMG :evil:
Why? Because NHibernate (I am generating C# code) tries to save a NULL value into a nullable=false database field. What? :shock:
Looking at the problem, the solutions seems clear:
if "table-per-class-hierarchy" then all references should be nullable, despite the user has set in the model.
In fact, you already do this in attributes. I mean, if a "double" attribute is on a subclass, then the generated code is "double?" (shorthand in C# for nullable double type).
Well, having said this, is this a bug or a "feature" we all should be aware of? (maybe they are some rare cases when the above solution should not apply) :?: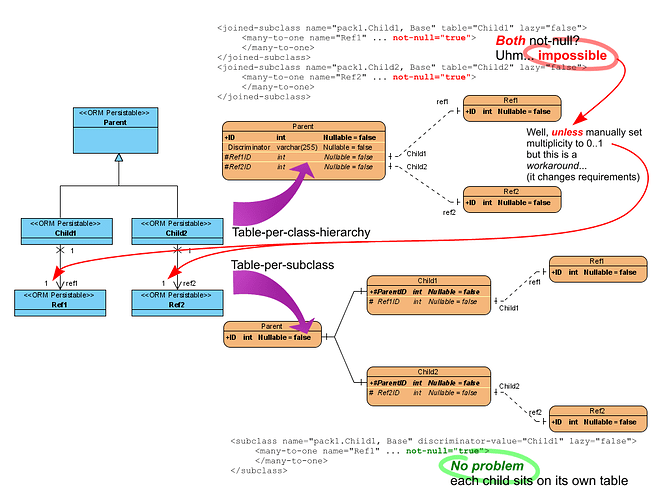 Bug16.png