Dear Sir/Madam,
I have been having problems with the SVN teamwork client since the 6.0 sp2
update.
When going to edit an existing project, I can add it to the Teamwork Client
using "Manage project…". It initially appears with a Status of "Not
checked out", which is to be expected.
[svn0.png]
Hitting Checkout appears to work normally; and the Project Details &
Versions are filled in.
[svn1.png]
If I then hit "Open Project", it will open, and hitting either Update or
Commit on the toolbar will correctly say that nothing needs to be done.
However, going back into the Teamware Client and hitting the Update button leads to the following dialog appearing.
[svn2.png]
Choosing Yes will go ahead and re-open the project. However the SVNWorking directory
under teamwork_client is now missing Foo.vpp.
$ ls -A teamwork_client/projects/Foo/SVNWorking/
Foo.dif  Foo.mmh  .svn

$ svn status teamwork_client/projects/Foo/SVNWorking/
?      teamwork_client/projects/Foo/SVNWorking/Foo.dif
!      teamwork_client/projects/Foo/SVNWorking

Back in the Teamware Client one last time, and the project Status is back at
"Not checked out". The Update button is still active though. Hitting it will
ask for confirmation to delete the existing project, as before.
[svn3.png]
The Teamware Client appears to be losing track of the files which it has
checked out. So when asked to perform an Update or Commit, it wants to
delete the local copy before carrying out the requested action.
Please can you help?
Many Thanks,
Darren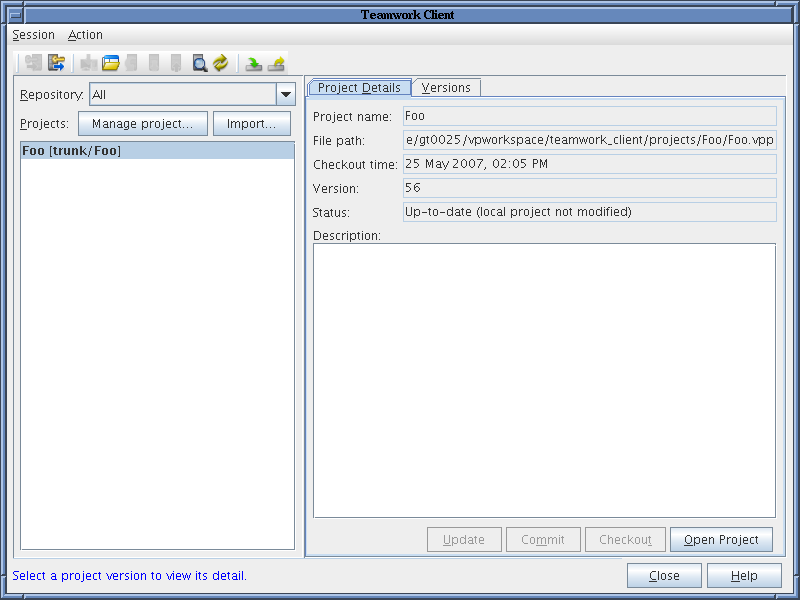 svn1.png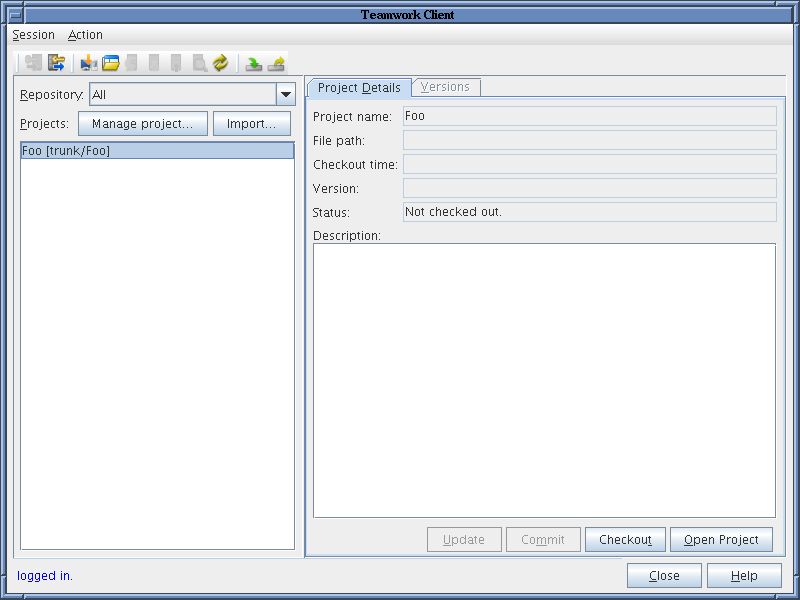 svn0.png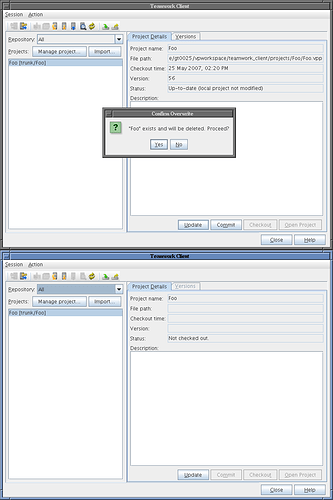 svn4.png