Does BP-VA support Business Process Modeling Notation (BPMN) version 1.2 as per OMG Document Number: formal/2009-01-03?
David
Hi David,
Thanks for your inquiry. Yes, we completely follow BPMN v1.2. If you find any contradict, please do not hesitate to tell us.
Best regards,
Lilian Wong
No your product does not support 1.2. For example it makes no distinction between throwing and cathing events e.g. white envelop versus black envelop. Is this on the roadmap?
I use the latest build 20090704 version 3.0
Hi user,
Thanks for your post. When you right-click on the message intermediate event, you can select Trigger > Catching/Throwing in the popup menu (see attached image) to change it to be throwing/catching event.
Best regards,
Lilian Wong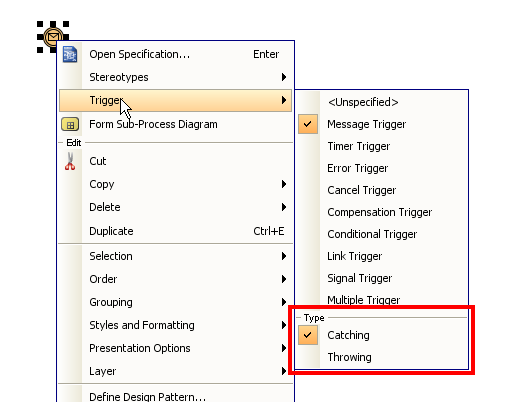 throwing_catching.png
I stand corrected. My appologies!
:mrgreen:
Hi user,
Good to know that you figured out.

Best regards,
Lilian Wong