Is DBVA-EC 4.2 compatible with Eclipse Ganymade ?
Hi Santm,
Thanks for your post. Yes, DBVA-EC 4.2 supports Eclipse Ganymade (3.4).
BTW, currently we have DBVA-EC 5.0 SP1, I recommend you upgrade to DBVA-EC 5.0. If you purchased DBVA-EC but not sure whether you are entitled to upgrade to DBVA-EC 5.0, please contact our support team at the following link:
http://www.visual-paradigm.com/support/
Best regards,
Lilian Wong
I actually tried the same and was able to install DBVA-EC 4.2 with own Eclipse 3.1 version on Eclipse Ganymade. What I observed is that while loading the workbench it gives a warning that some workbench setting cannot be used. I can see that all modeling menus are coming and I am able to create ORMs as well.
While generating the code the Message window shows that code is generate but when I see my project explorer I dont find it anywhere. In fact , I initially thought that it is SVN problem and installed svn in that workspace. However, DBVA-EC being packaged with older eclipse 3.1 , couldnot allow svn 1.4 install on it.
Next, I installed DBVA-EC again on our eclipse 3.4 and was able to install svn on it. However, I am still unsbale to find generated code (POJOs and HBM) .
Could you please advice what can be the problem?.
Hi Santm,
Thanks for replying. I can installed DB-VA 4.2 SP1 on Eclipse 3.4.2 and works without any problem even if generate code (I can see the source appears under src node). I used the latest build of DB-VA 4.2 SP1, which you can download from the following link:
http://files2.visual-paradigm.com/200906/Patch/sp1_20080513zi/VP_Suite_Windows_3_2_sp1_20080513zi.exe
Could you please install the latest build to see if you still have the same problems?
Best regards,
Lilian Wong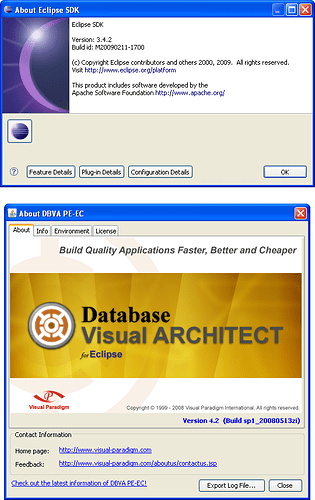 build_of_eclipse_dbva.png
I linked one of the project directory as source and it worked.
Hi Santm,
It's great that you solved the problem! Have a nice day!
Best regards,
Lilian Wong
Regarding DBVA-EC 5.0 SP1 upgrade, Could you please highlight some features that provide it more reasonable to move to that version ?