This issue addresses the expansion of a Resources-Centric Interface's (RCI) option. For example, when you hover over an association icon, two more icons are produced for aggregation and composition. The RCI itself is able to avoid being obscured by dodging the canvas window border.
Once in a while, I would have an entity near the border of the canvas window and while accessing the RCI icon that produces child icons, these children can sometimes be obscured by the window border. Thus, this feature suggestion is to modify how the RCI renders child icons by having it avoid rendering outside of the viewable window. For example, in the attached example, it would be ideal if the child icons are rendered stacked-down rather than stacked-up.
The current workaround is to move the entity away from a view window border and allow the RCI children to render as normal: stacked-up. I suppose this is a minor inconvenience but I figured I mention it here.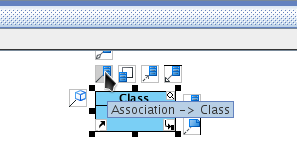 rci_cropped.png