Hello,
I've just tried to create a communication diagram in VP-UML 6.4 and have found some unpleasant limitations (especially compared to sequence diagr.) and non-standard behavior. I wonder if it's really a problem of VP or if I'm just not smart enough to use it correctly.
[ul]
[li] Numbering doesn't reflect nesting. When A sends a message to B and B sends a message to C then A->B shall be 1, B->C shall be 1.1 but VP numbers them 1 and 2 (see the attached picture). The negative consequence is that you can't represent different control flows on the diagram, for example when B may decide to send message either to C (nr. 1.1) or to some Z (nr. 1.2). VP would number B->Z as 3 creating the flow 1.A->B, 2.B->C, 3.B->Z while there are 2 alternative flows 1.A->B, 1.1.B->C or 1.A->B, 1.2.B->Z.
[/li][li] There is no tooling support for message that are method calls. In a Sequence diagram (SD) I get a drop-down list with a liferline's methods to select from, not so on a Communication Diagram (CD).
[/li][li] There is no support for specifying guard conditions and thus branching. Of course when typing a message name (since anyway I can't select lifeline's method and must type a string) I can prepend the condition to the name, for example "[! badWeather] goSwimming()". But VP won't understand that this is branching. (Due to its nonstandard numbering it couldn't likely represent it anyway.)
[/li][li] The auto layout is very stupid, places texts one over another, doesn't make an efficient use of the available space (e.g. putting most lifelines on the same X axis) - see the attached picture. But this is likely not limited to CD, when I tried Auto Layout on a sequence diagram, it has rearranged messages so that they got out of their combined fragments (sections of an Alt).
[/li][/ul]
Environment: VP-UML 6.4 on Linux.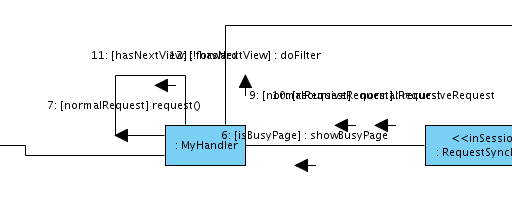 vp-um-ugly_autolayout-communication_diagram.png