Hi VP,
I have a problem with the following model:
One Class "CParent1" with a generalization class "CChild1"
One Class "CParent2" with a generalization class "CChild2"
All four classes with stereotype "ORM Persistable"
Then, ORM associaton bidirectional 1-to-many from CChild2 to CChild1
(see attached image)
If the inheritance strategy of both CParent1 (and its childs) and CParent2 (and childs) are the same, the code generation works well.
But, if both inheritance strategies are different, code generation fails with "Foreign Key and Association End classes not match".
Is this a NHibernate limitation? or a bug in the code generator?
Many thanks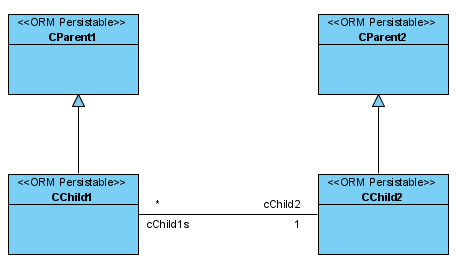 question.png