I am trying Instant Reverse Java to Sequence Diagram. I am getting error
not found
I saw your advice above, but it is not working.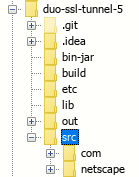 As you can see in the diagram my Java project is configured as project/src/com/…
Therefore my source root would be project/src.
I am entering that in Visual Paradigm
Then I select the operation
Everything seems perfectly reasonable until this point.
But then I enter a diagram name ("launch") and click finish
I believe I have selected the correct src dir, so that can't be the issue.
Do you have any other suggestions?