Since the last update, I have a problem with the sequence diagram layout:
When I open a project and open an existing sequence diagram, the new text area - designed for editing the diagram by keyboard - is shown over the whole sequence diagram. When I minimize it, some (but not all) captions are moved to the upper left edge of the diagram. The only way to put them back to position is by dragging them by hand. "Reset Caption Position" does not solve this problem. When I close the project (without saving it) and reopen it again, the tab is still there (the last viewed diagram is still opened), but after minimizing it, the captions are on the right places. In othe diagrams, the problem remains. So the only diagram, the captions remain on the right places is the one opened right after the program start.
This is quite annoying as I often need to open older projects and re-use some of the diagrams and now I have to always select the diagram I want to re-use and reopen the project. Besides that, I am do not dare to change anything and save the project for I am simply afraid of losing all of the diagrams but the currently open one.
I suppose this is a bug? Here are some screenshots to visualize the problem. I hope it helps.
Thank You in advance,
David
btw: I am using the Standard edition SP1 with latest updates (as to Dec. 3rd 2009).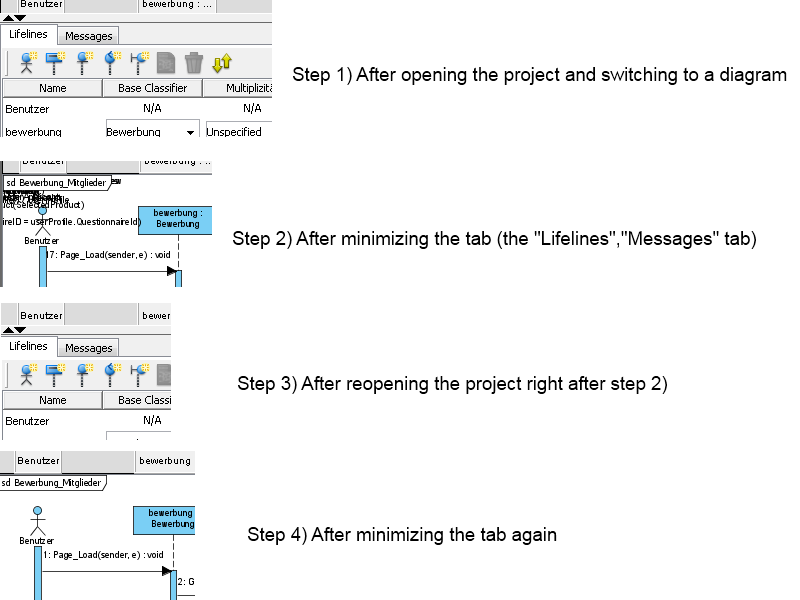 vp_bug.png