Hi all,
I'm trying to generate an xml complex type that should include an any wildcard.
<complexType name="BodyType">
    <sequence>
        <any minOccurs="0" namespace="##any" processContents="lax"/>
    </sequence>
</complexType>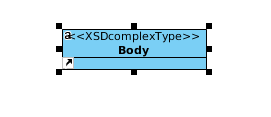 I have looked at attributes, attribute stereotypes, class stereotypes, relationship stereotypes, but so far I have not been able to get this working.
Does anyone know how this can be done in VP?
Thanks in advance.