UML allows for activity edge connectors, to act as references between act as connection points between to actions in an activity diagram (instead of drawing a long line).
For example, see attached.
These symbols do not seem to be present in v14. Which leads me to wonder what version of UML is supported.
Can anyone help me out?
THX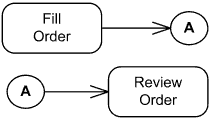 activity-edge-connector.png