Is there a plan for adding automatic element numbering to BP-VA? This feature is very useful in documentation.
Hi Adam,
Do you mean to automatically append a number to the element name? Actually the naming of elements is already applying this approach. When you create a new Task, for example, you got 'Task'. When you create another Task, you got 'Task2', and so and so forth.
Best Regards,
Jick
Hi Adam,
Thanks for your reply. The idea sounds interesting. I have passed your need to our development team for further research. I will keep you posted the progress of this issue. Thank you once again.
If there are any other suggestions, please feel free to let me know.
Best Regards,
Jick
Hello,
this numberation would be very useful. What about the realisation?
Simon
Dear Simon,
Sorry but I do not quite understand your need. Were you suggesting another feature called 'realisation'? Could you provide me with more information on it? Thank you in advance!
Best Regards,
Jick
The problem is lack of identification system for BPVA objects. The Name field doesn't cover the need to uniquely identify every figure for documentation purposes. The Name field is actually a Caption. I can imagine 3 fields instead: 1 - Name field as user defined identification, 2 - Caption field for visible caption and 3 - randomly generated ID field.
It's supplement to the previous article …
There is an other reason why every project's object must be uniquely identified. I need often to translate in Russian BPMN projects. If I use Name field as identifier so it sounds quite different in different languages. Besides that different char tables are used for different languages. In large projects I can predict chaos and disappointed documentation because no more objects could be identified.
Hi Mark,
Thank you for the explanation. I have forwarded your feedback to our development team. Once there is a response from them, I will post here.
Best Regards,
Jick
By the way, accordantly to OMG Final Adopted Specification from February 2006 dtc/06-02-01 identification attribute (Id) for all graphical objects is the first one on the list. There are 3 Common Graphical Object Attributes: Id, Categories and Documentation (page 33, table 9.1).
Hi Mark,
If we are going to support element numbering, do you have any suggestion how the number can be applied in the tool such as the diagram and documentation? What I concern is that, if numbering is just a textfield inside the model specification, why not use the documentation to record this information? I think there must have something special with the numbering…
Best Regards,
Jick
Hi Mark,
We will upgrade BP-VA to support the latest spececification. The upgrade will be available not more then 2 months from now.
Best Regards,
Jick
Hi Jick,
My suggestion is to add a write-protected field in specification for random-generated identifier. It can be more or less long number or mix of digests and characters. May be there are same common standards for this purposes …
Hi Mark,
I would like to announce that BP-VA 1.1 Service Pack 3 is released. This release supports identifier generation. I hope you will find this function useful to you. If there are any comments, please feel free to let us know.
Finally, you can download the latest release at:
http://www.visual-paradigm.com/download/download.jsp?product=bpva
Best regards,
Jick
Hi Jick,
I have the same problem of ID number.
Example: I have 3 activities, I called the activities 1. Planning, 2. Executing, and 3.Control.
When I generate a report I can not understand how it is sorted, I am sure it is not by ID because the events are displayed before than the activities despite the ID number. Other problem of the Id Number is that I only need identifiers in the activities not in the rest of symbols as start, end events, gateways,etc.
Please Helpppp …
I was working for three months in the AS IS and To BE model and know I dont have time to redefine all the Id numbers. There is a way to sort by activity name? and also, There is a way to delete the events, pools and lanes in the html report and wiord report? :?:
Thanks.
Ttyka.
Hi Ttyka,
By default, the report sort content base on the most reasonable and logical way. For BPD, the sorting follows the flow from start event to end event. If you want to change to sort by ID, please set it in the generate dialog box. Attached is a screenshot showing you how to do this.
I regret that we do not support report customization at the moment. Once we'll support, I will let you know.
Best regards,
Jick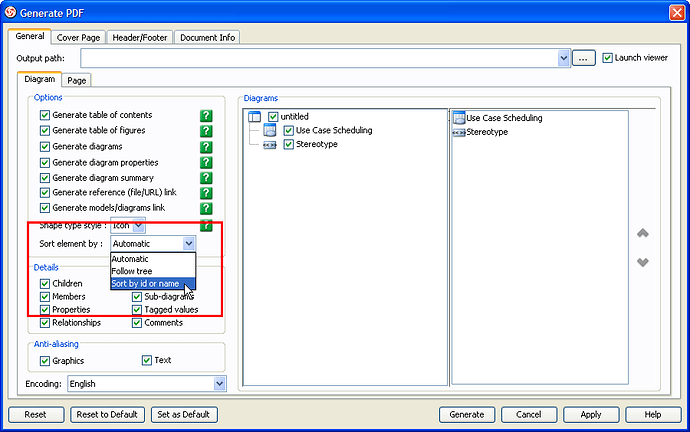 report-sorting.png
Has there been any progress on this issue? I too have problems with element refrencing, I only want the elements to be referenced, not all the connectors etc and I also have problems with the automatic flow sort on the report. The only way arround this seems to be to manually go into each element and re-reference it but this is very time consuming.
Thanks
Hi Dan Potter,
Thanks for your post. Could you please send me some samples with your expectation? Thanks in advance!
*If you do not want to file to be accessed by public, please send the files to lilian@visual-paradigm.com
Best regards,
Lilian Wong
Hi user,
Sorry for my late reply. Actually we already support automatic numbering in BP-VA (ID is generated once you created a business process diagram/model). You can check or modify the ID in their specification (right-click on the diagram/model and select Open Specification), but not allowed to have duplicated IDs.
If there is any further inquiry, please feel free to contact me again.
Best regards,
Lilian Wong