Hi gang!
Now that we have this awesome community forum which allows us, the Visual Paradigm Community, to more easily discus all sorts of things I figured we might want to add a general tips and tricks thread. Visual Paradigm (the software) is an extremely versatile program and it has so many options that I think it's quite easy to overlook something.!
So what better way than to share some of our discoveries?
Free online training!
The Visual Paradigm team has made an official online training which consists of 27 lectures which will show you pretty much everything there is to know about VP. It introduces you to the software, the several supported modeling languages (introduction to UML, BPMN and UeXceler) , how to share your projects with others (using VPository) and it also explains some more advanced topics such as document generation, the model repository and how to export and print diagrams.
And more: there's also a tutorial available which explains database design & management and a tutorial which explains Agile development using UeXceler.
See here: FREE Visual Paradigm Training - Visual Paradigm Essential
Trust me: even if you're already well familiar with Visual Paradigm it might still be useful (and fun!) to go over some of these chapters.
Community Circle
I actually overlooked this at first!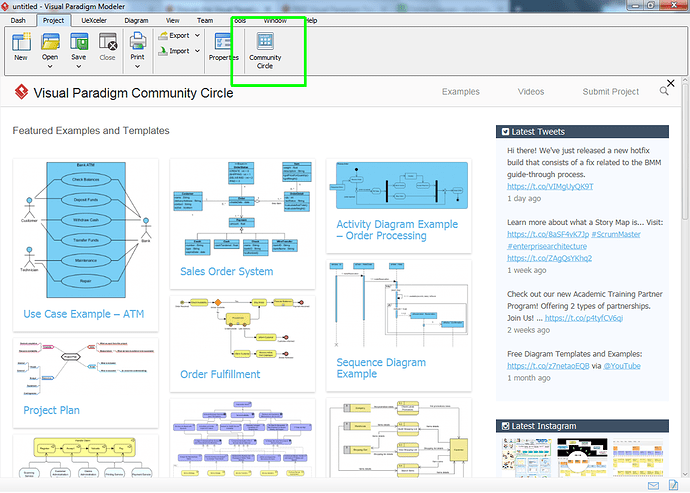 If you start Visual Paradigm and look into the Project tab you'll notice an icon called Community Circle (see screenshot above). This gives you access to a huge collection of examples which can showcase nearly every available diagram type. From UML to BPMN right down to Mind mapping, Cause and Effect and Fact models.
And the best part? As its name suggests this is mostly maintained by us, the Visual Paradigm Community. Do you have a project which you think could be useful for others as an example? Then consider sharing that so that others might learn from it as well.
And it gets better: even if your license does not give you access to a certain diagram type then this won't stop you from viewing an example in read-only mode.
Panes from the past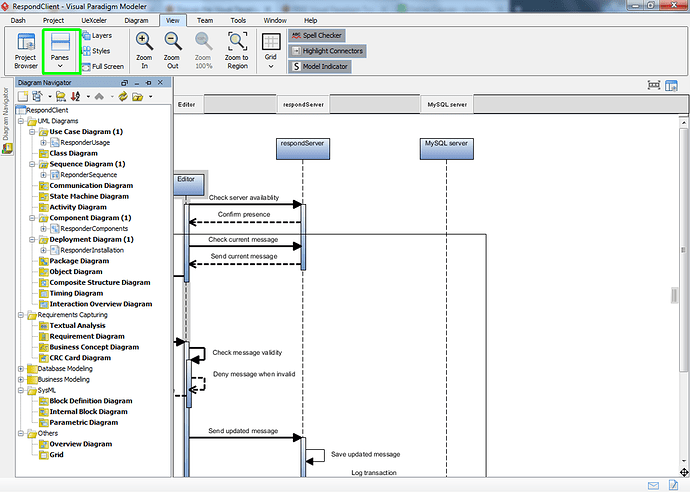 Although the project browser is a really good way to get an overview of all your diagrams and their associated diagram models, sometimes you might prefer to have somewhat more direct access. Something which doesn't require you to switch to a different window all the time.
Well, exactly that's what the panes section is for!
As seen above you'll find the panes option in the View tab. This button gives you access to 8 panes in total:
Diagram Navigator - Shows an overview of all your diagrams (shown above).
Model explorer - Shows an overview of all your model elements.
Class repository - Shows an overview of all your class diagrams.
Logical view - Allows you to categorize your diagrams.
** Note that this pane is superseded by both the 'model structure' and 'files' sections in the Project browser.
ORM - Gives you an overview of your ORM diagrams.
Stencil - Provides access to a large collection of shapes and icons which you can use in your own diagrams.
Property - Shows the properties of the currently selected model element. This is comparable to the information in the specification window (press enter when a model element is selected).
Message - Opens the message pane, you can also click the message icon in the lower right corner. This shows you all the current application messages.
Fun fact: These panes date from the time when Visual Paradigm didn't have the sleek interface yet.
And there you have it!
Three tips which will hopefully be useful to some of you out there. I'll be adding some more at a later time.